Discover Ways to Improve Your Child's Coordination
After 2 years without "normal" recess, after-school sports, and gym class, you may notice your child is not keeping up with other kids as they begin to return to the field and playground. There are many ways to help play developmental catch-up with your child's gross motor skills!
The CORE of coordination
The basis of coordination relies on your arms and legs working together for balance, precision, and efficiency. Without a strong and stable base, where the arms and legs merge, this processing and execution of skills can be incredibly difficult. Does your child have difficulty staying in one position? Do they run or walk without an arm swing? Do you find that they lose their balance on the jungle gym or running through the grass? They may be lacking the trunk control and strength that makes this all possible!
What can I do?
Play with a purpose! A child is not going to join your workouts and enjoy planks and sit-ups. They benefit from motivation and creativity through play! Try these games at home:
Hands and Knees or Quadruped Play: Quadruped is a great position to play in, even after your child is no longer crawling! Reaching with alternating hands in this position is an easy way to challenge your child's core stability and coordination. They can reach for pieces to a puzzle, play a game, or even give you high fives!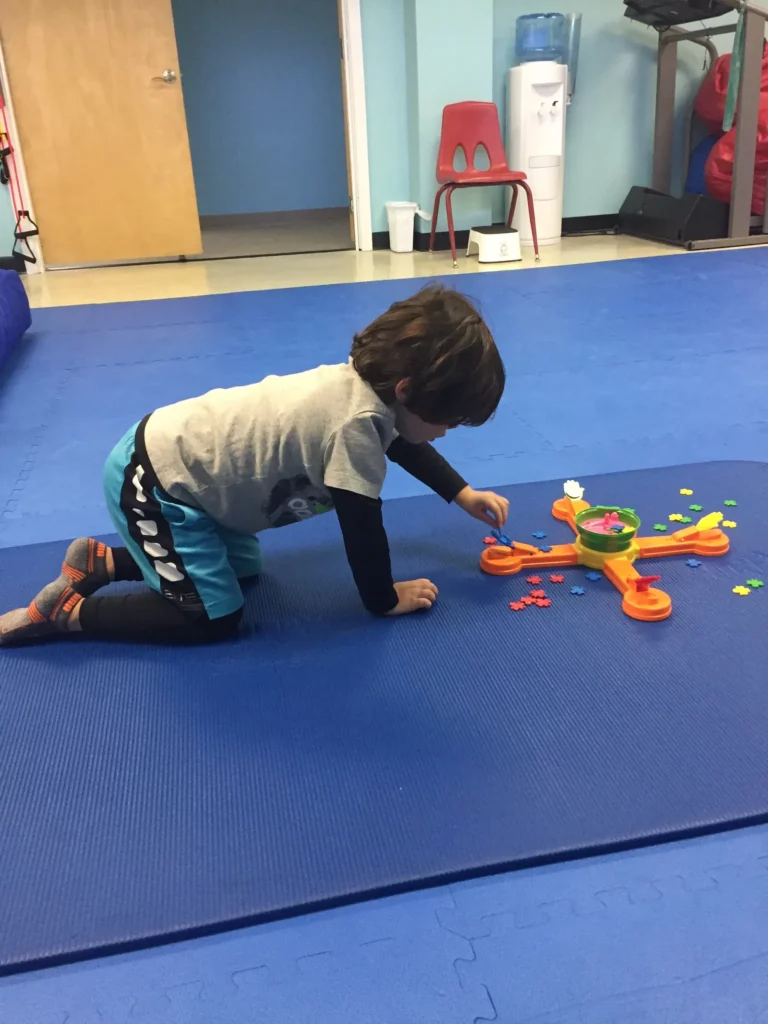 Tall Kneeling: Kneeling requires muscles in the front and back of our hips and core to communicate and work together to maintain balance. Raising up from low to tall kneeling to retrieve a toy or walking on your knees is a great way to practice using your hip musculature without losing balance!
Half Kneeling: Kneeling with one foot up is a versatile play position that challenges symmetry, hip strength, and balance. This can be done while playing with a toy on a chest-height table or on an upside-down laundry basket. If your child is up for the challenge and ready for hands-free, you can try catching a ball or chloroforms on a window.
What if that isn't enough?
If you have concerns about your child's gross motor development or coordination skills, reach out to a pediatric physical therapist! The therapists at Developmental Steps will help identify your child's strengths and weaknesses. They will teach you how to incorporate developmental play into your lives, and most of all help your child reach their full potential!