Summer Shoes for Thought: Tips on Providing the Best Support for Your Child's Feet in the Summer
We know there is so much to do to prepare your family for summer: clothes shopping, dusting off the summer toys and getting your grill ready. We're here to help you take the guesswork out of at least one part of it: your child's sandals!
Just like with sneakers, the structure, material, quality, support and comfort features differ greatly from pair to pair. We know it's tempting to just let them go everywhere in flip-flops, or even barefoot! Unfortunately, flip-flops don't have the proper foot support for growing feet and developmental issues can occur as their bones continue to grow.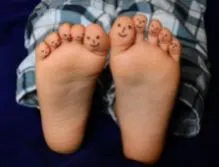 HERE ARE SOME OTHER THINGS TO CONSIDER WHEN YOU'RE BUYING SHOES FOR YOUR KIDS THIS SUMMER:

Barefoot is not always best – Being barefoot is great indoors. It prevents the spread of dirt and germs in the house and promotes strong muscle development. However, when your kid is running around outside, shoes are a must. Barefoot kids are at a greater risk of contracting a foot disease, getting a foot fungus, or experiencing an injury.

Sandal tips – While we mentioned flip-flops are not supportive enough to be a good everyday shoe for your child, sandals are occasionally a different story. If you're looking at sandals to help keep your kids' feet cool, look for arch support, heel cupping, and shock absorption. too. These are a must as they can prevent injury to your child's foot and encourage proper bone growth. As with any shoe, make sure they fit properly to prevent any rubbing or tripping. We recommend Keene's (www.keenfootwear.com/kids/) and Kamik's (https://us.kamik.com/collections/kids-footwear). These sandals are waterproof and give the proper arch support for your kids.

Sneakers are another option – Generally, a nice supportive pair of sneakers is best for your kids' growing feet. The keyword for kids' shoes is supportive! Click here to read our recent blog post on tips for finding the best kids' sneakers. 

Are you looking for the perfect shoe for your kiddo? Or have you noticed anything about their gait or foot development that needs attention? The Physical Therapists here at Developmental Steps are highly trained and can answer any questions about your children's feet. To schedule an appointment, contact us today by emailing us at devstepsmk@gmail.com or you can call our offices at (914) 939-6400.